The apartment building where I live in for the last few years had some cabling issues.  That prevented me from joining the rest of the world in the 21st century, when it comes to home Internet connectivity.  Here's what I've been on until today: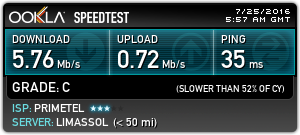 Today, I've got my connection updated.  PrimeTel Fibernet, which is currently only available to select buildings, brought the modern age of technology into my house.  Here's how it looks: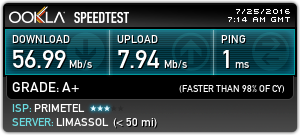 Yup, that's a 50 Mbps download with 8 Mbps upload connection.  Nearly a 10x speed increase, but not only that.  Have a look at 1 ms ping now vs. 35 ms ping before.  And that all is for the same price.  And nothing else had to change – I still have the same TV channels and the same landline number.  Ah, no, wait, my home IP address changed, but who cares about that, right?
This thing is so far indeed, that to fully utilize it I need to use the Ethernet cable.  Gladly, that's how both my PlayStation 3 and the home media server are connected.  With my laptop's WiFi, I get the numbers like this:
I'm not yet sure why, but I'll probably need to look into my wireless card drivers or something.
Anyways, WiFi or not, it's way faster than it used to be, both in bandwidth and latency.  Which are amazing news!
P.S.: Thanks to SpeedTest.net for cool graphics and years in service too.