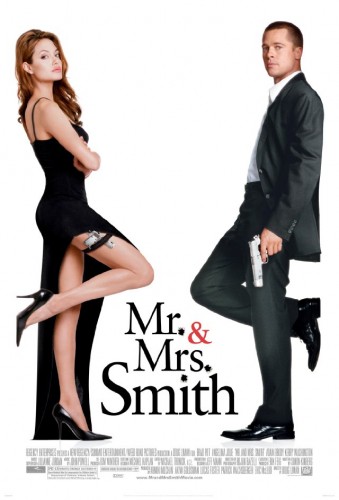 One of the films that I was waiting to come out, but never managed to go to the cinema, was "Mr. & Mrs. Smith" Finally I saw it and can now participate in all those discussions…
Directed by: Doug Liman
Genres: Action, Adventure, Comedy, Romance, Thriller
Cast: Brad Pitt, Angelina Jolie, Vince Vaughn, Adam Brody, Kerry Washington, Keith David, Chris Weitz, Rachael Huntley, Michelle Monaghan, Stephanie March, Jennifer Morrison, Theresa Barrera, Perrey Reeves, Jerry T. Adams, Melanie Tolbert
IMDB raintg: 6.7
My rating: 7.5 [rate 7.5]
I consider this film to be excellent. It provided exactly what it aimed at – entertainment. And I mean lots of it!
Additionally, watching a great duet performance of Brad Pitt and Angelina Jolie was very eye pleasing.
I also don't thinkt that the big screen would add anything to the watching experience. This film works equally well everywhere.
So, if you are in a moof for relaxed, but funny action movie – Smith's are a really good choice.