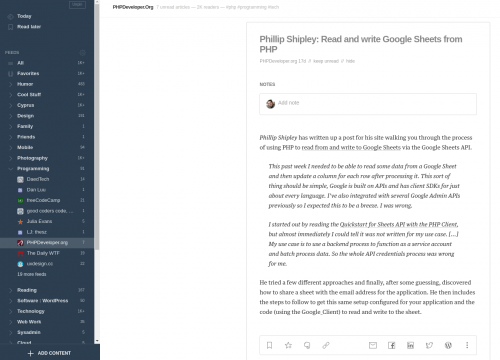 I've been a heavy user of RSS for years now.  I've tried and used everything from custom built applications and scripts, to browser add-ons, to third-party services.  Even this very blog's archives are full migration and review articles form one tool to another.  Here are a few links, if you are interested:
For the last 3 years, I've been using Feedly, which I like a lot.  I've been thinking about going Pro for about a year now.  Last week, I made the switch.  Here's why:
I do love the service and want to support it!  After all, I'm spending at least an hour every day going through my feeds.  Sometimes even more.
The Pro version removes the limit on the number of feeds and items in each feed.  Not that I don't have enough to read, but I don't like the idea that I might be missing something.
The Pro version provides integrations and easier sharing to a variety of third-party services.  The one that is most important for me is WordPress integration.
Their blog post about the upcoming changes to feed organization was the last drop – I WANT THAT!
Feedly constantly improves the user experience and brings new features.  It works very stable – I think only remember one or two downtimes in the last three years.  Their web interface is very handy and the mobile app works well too.  They have plenty of browser add-ons to make things even easier.
All in all, it's well worth $5 per month for me.