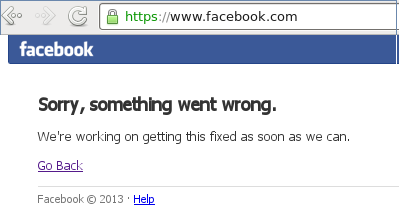 Now that's something you don't see every day: the whole of Facebook is down – the website, the APIs, the social buttons, etc.
Oh, and I think they need to update the copyright year on this page.
Jokes from the office folks:
How many "f*cks" per second do you think one could hear in the Facebook office right now?
The productivity of the whole world just spiked!
Fun stuff from Twitter:
even the link that tells me if facebook is down, is down http://t.co/yeHAyajAOg

— Orli Yakuel אורלי (@Orli) June 19, 2014
https://twitter.com/TheUniBibIe/status/479539283226017793
Facebook users are now roaming the streets in tears, showing photos of themselves in people's faces & screaming 'DO YOU LIKE THIS? DO YOU?

— 9GAG (@9GAG) June 19, 2014