Cyprus is preparing for the presidential elections, which will take place this coming Sunday – February 17th, 2008 – and then another Sunday after that – February 24th, 2008. Unfortunately, most of the information about the elections is in Greek, so there isn't much point in linking to it or quoting it.
Anyway, I came across this post in Linkbox blog, which links to web sites of some candidates, as well as the main web site of the elections.  Being a curious web worker, I wanted to see which tools these web sites use, and how well they use them.  Here are my findings.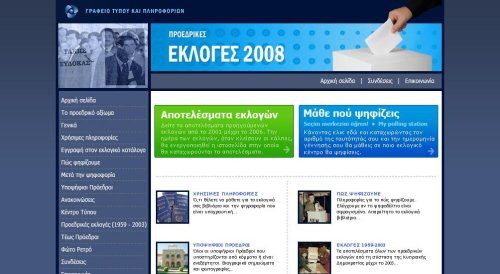 http://www.ekloges.pio.gov.cy/ – the main site of the elections.  The CMS seems to be some sort of custom development, running on a Microsoft Windows/IIS server somewhere in the UK.  While design looks OK, HTML fails validation miserably, is totally unreadable, and features some of the horrible decisions, such as inline CSS and non-UTF8 encoding, which gets translated into a bunch of HTML entities.  Also, no RSS feed, and no search (which I might be wrong about).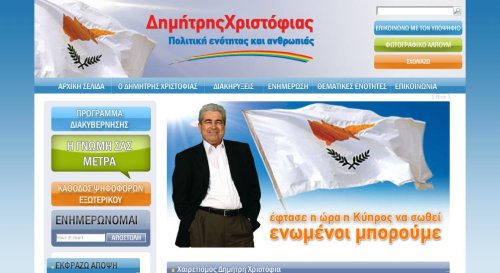 http://www.christofias.com.cy/ – web site of Dimitris Christofias, presidential candidate. Again, it is not clear which CMS powers this web site, due to removed signatures or a probable custom development.  The site is hosted in the USA. Neither HTML, nor CSS validate at all.  Again, no RSS feed, and a non-UTF8 encoding, which, again, translates into a whole lot of HTML entities.  However, there is a search box in the top right corner of the site.  There is also a running poll in the sidebar, and the way to subscribe for something with an email address.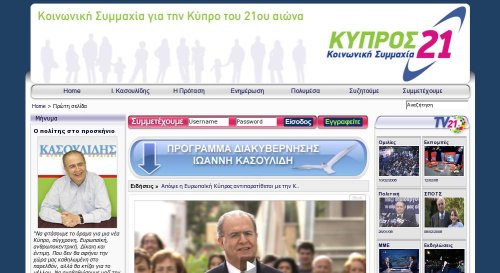 http://www.kypros21.com/ -  web site of Ioannnis Kasoulides, presidential candidate.  This web site uses WordPress 2.2 (very outdated version) and it seems to be hosted in Cyprus.  HTML and CSS don't validate either, however there is a valid RSS feed.  There is also a search form, and there are traces of a few popular WordPress plugins.  Character encoding is properly set to UTF8. There is a calendar, a way to login with username and password, and words "blog" and "forum" are mentioned.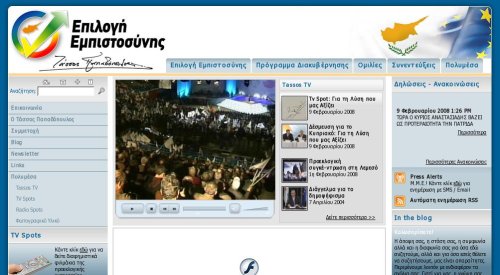 http://www.tassospapadopoulos.com/ – web site of Tassos Papadopoulos, presidential candidate, as well as current President of the Republic of Cyprus. The web site seems to be hosted in Cyprus, and runs on ColdFusion MX Edition, which is set to be "not for production use".  This web site offers both RSS feed and search box, however neither the feed, nor the HTML, nor the CSS validate properly.  Encoding is not set explicitly, but the server seems to be serving UTF8, which is the right one for the content of these documents.
In summary, the state of the campaign web sites is far from perfect, although not as pitiful as it used to be in previous years.  While technical side needs a lot of improvements, at least the visual parts got a lot of improvement with modern designs, gradients, rounded corners, flash, etc.
Side notes:
Out of four web sites, only two are hosted Cyprus servers.
The web site which runs on WordPress seems to be technically less flawed, although I am very biased here.
The design of all web sites is layered on top of some variant of blue gradient.  I am not sure if this is a coincidence or if that bears any special meaning.
Among four web sites' front pages, there are only three Cyprus flags (one web site has two, while two others don't have not even one), and only one flag of European Union.