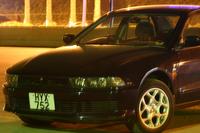 Olga and I went for a walk on a seaside promenade in tourist area today. I didn't want to photograph anything, since I just finished with "Egyptian Bazaar". But there was this boat with lights on the water and a nice reflection of it, and I had a tripod nearby, so I decided to try. I took a few shots, which looked nice on the LCD monitor, but which I threw away when I saw them on the screen. Apparently, the water wasn't calm enough, so the boat came out blurry and the reflection wasn't all that good.
I've also took a picture of promenade itself, forgetting to adjust the white balance for the flurescent ligts, and a another picture of my car which came out more or less OK.
Anyway, I did learn to pay more attention at the environment I am about to shoot. And I've got three pictures which are good enough for posting. The album is here.