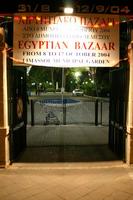 Those of you who passed by Limassol Municipal park recently have most probably noticed that there is something going on in there. The event is called "Egyptian Bazaar" and it is organized from October 8 until October 17, 2004. This event occupies a small fruction of the parkwith a few minishops selling all sorts of goods you would expect in the Port of Alexandria, Egypt. In other words, items such as leather wallets, sweet nuts, nargile, pieces of furniture, musical instruments, and clothes at very low prices and of doubtful quality. The main fun is of bargaining, for those who enjoy it. Others can watch those who enjoy the bargaining. Rather entertaining I must say.
Anyway, Olga and I walked around a bit, bought three packs of sweet nuts and made a few pictures. If you are in the area, I recommend you to pass by and enjoy the event. The entrance is free and you don't have to buy anything.
The pictures are here.