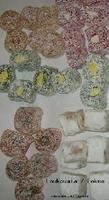 According to Cyprus New Association, the Municipality of Geroskipou (Pafos area) is organizing an event around cooking the biggest loukoumia (also known as Greek delight) in the world and getting on the pages of the Guiness Book of Records. The event starts today with the preparations and cooking this huge thing and will continue until Sunday 17th of October, 2004.
As usual, the information is very limited, so if you know anything, please share via comments or email.
If you want to know more about this loukoumia thing, a couple of encyclopedia entries are here and here.