Being a sysadmin and web developer I read plenty of technical documentation – manuals, tutorials, howtos, and so on and so forth. Most of it is usually very dry and boring. Unless, of course, we are talking about Open Source Software. That area is often very human, with plenty of humor and an excellent examples.
Today I came across a very nice website which explains how Git – the de facto version control system in Open Source community – works. The site is called Think Like a Git. Very well structure, with simple, easy to understand language, and excellent navigation.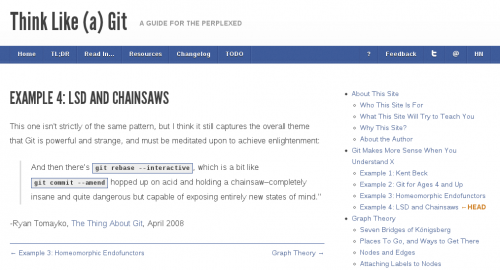 I'd also like to mention the design separately. So often do technical people end up using generic templates that aren't very well suited for longer texts, quotes, and code snippets. So often do designers overdo things making documentation nice looking, but impossible to read. Think Like a Git is not like that. It's beautiful, yet clean, fresh, and simple. My eyes are actually resting while I flip through the pages. Nothing annoys or disrupts my attention. It's all about Git. Bravo!