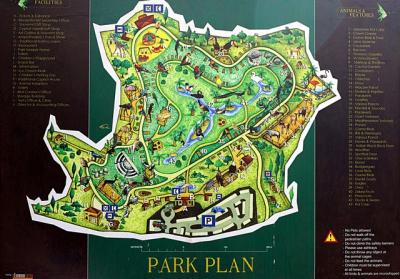 Almost a year ago I mentioned that Pafos Bird Park was open and accepting visitors. Finally, I managed to go there and see for my own what and how good it is. Vladimir, Olga, and Maxim came along.
Long story short – Pafos Bird Park is one of those places in Cyprus that everyone should visit at least once. The price of 9 CYP per adult ticket seems high, but it's actually not. The ticket price includes the whole day pass to the park, bird shows, restroom and kids playground facilities, and a bunch of booklets about the park itself and Pafos in general.
Longer version now.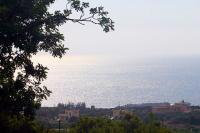 The place is a bit too far. It is outside of Pafos and practically borders with the road to Akamas. But the location is beautiful. There are hills and the sea is nearby. The fresh wind from the sea makes walking around the park very enjoyable.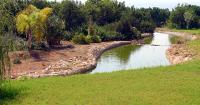 The organization and decorations of the park are outstanding. There are plenty of trees and bushes both local and exotic. Walking paths are alsphalted. There are a few lakes and a river that can be crossed using of the bridges. The grass is trimmed everywhere while trees and bushes aren't. That creates a feeling of wildness combined with organizing human touch. Very nice.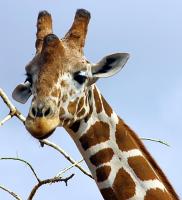 There are plenty to see. Lots and lots of birds, obviously. Everything from regular pegions to colorful exotic parrots. There are also some animals. Most notably – few monkeys and a couple of giraffes. Both birds and animals look very good and seem to be taken good care of. Unlike Limassol Zoo.

And there is also a bird show. Actually there are two or three shows every day. So we went to see one. There were about five parrots that were performing all sorts of tasks given to them by the host – bicycle riding, rolling, flying through circles, solving simple arithmetic tasks, and so on. The show goes on for about 30 minutes and the price of it is included in the entrance ticket.
There are a few places to spend your money at on the territory of the park – few kiosks with drinks and ice cream, souvenir shops, art gallery, park merchandize, etc. You can even buy a bird or two while you're at it. Another facility available is the restaurant, which looked rather good, but we didn't manage to try since the park was closing at 17:00 and we only decided that we are hungry at about a quarter to five.
We had a great time and will surely visit the park again (probably in a couple of years, when Maxim will be old enough to be interested in all this stuff). I strongly recommend everyone to go and see it for themselves at least one. The time and money spent are well worth the effort.
Album location: /photos/2005/2005-10-01_Pafos_Bird_Park