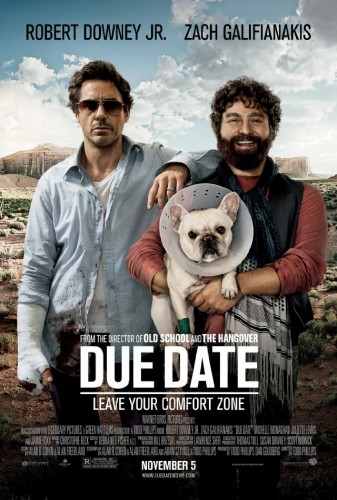 The other day I went to see the comedy written, directed, and produced by Todd Fillips – "Due Date".  Todd also played one of the supporting roles in this film, which is somewhat usual of him.  Two main roles were played by Robert Downey Jr. and Zach Galifianakis.
Even though I did enjoy this comedy quite a bit, I still felt that it was rushed into production.  Some parts of the movie are hilarious.  I've been laughing out loud more than twice.  And even laughed to tears once or twice.  But there were parts of this movie which were unnecessary, boring, and disconnected.  It felt like these were early drafts.
Robert Downey Jr. was interesting – a somewhat more dramatic character than most of his recent movies.  Zach Galifianakis was exactly as he usually is in his most recent movies.  There were weird moments, but overall the duet worked together.
I won't recommend this film strongly, but if you have a chance to see it – see it.  It's not a total waste of time.   Ranking-wise, I'd give it a 4 out of 5.