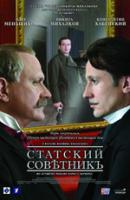 Some Russian movies seem to get into my film watching periods no matter if I want them or not, it seems. Statski sovetnik" was one of this movies. Ididn't particularly want to see it, but since I got my hands on a copy, I thought – why not…
Directed by: Filipp Yankovsky
Genres: Drama, Crime
Cast: Nikita Mikhalkov, Oleg Menshikov, Konstantin Khabensky, Vladimir Mashkov, Emiliya Spivak, Mikhail Yefremov, Oksana Fandera, Aleksei Gorbunov, Fyodor Bondarchuk, Oleg Tabakov, Mariya Mironova, Aleksandr Strizhenov
IMDB raintg: 7.3
My rating: 5.0 [rate 5.0]
This first thought I had after (and actually while) watching the film was that this fim is an excellent promotional material for Nikita Mikhalkov. He needed some good publicity before the Moscow International Film Festival, and he got it with this film. In fact, it has "Nikita Mikhalkov" stamped all over it – he the executive produce, he plays one of the main characters, and he has most of the screen time and dialogue in the film.
The computer graphics that I was so much complaining about in the prequel – Turetskii Gambit – are gone. Camera work is much better, as well as background sounds had some work.
The weak points are as usual – acting and dialogues. Most of the people in the film act and talk like they were sent to our planet from Mars just about 4 hours ago. They passed the adaptation stage, rested a bit from the long flight, and learned a few words and expressions on TV. It was terrible. Sometimes there were not mentioning important things. At others they were explaining and repeating the obvious. Several times. And on and on.
Also, I'd prefer if there were more suspense. It is a crime and detective fim with some revolutionary units and government mafia mentioned along the way. There were even a few killings. But nothing in this film was keeping me on the edge of the chair.