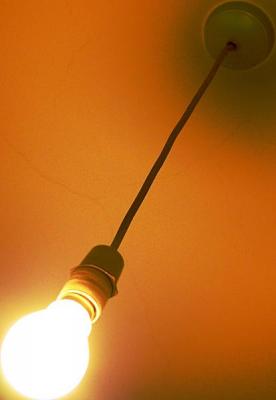 I am still sick and uninspired. I have yet again made a picture of the tungsten light bulb. I know that I did something similar less than a month ago, but it seems I have a fascination for tungsten. Older picture was taken with the crappy camera in my phone. Today's version was taken with my Digital Rebel and postprocessed in Gimp. It is that only after postprocessing I have remembered that I took a similar picture recently, and I started wondering what is wrong with me. And it came to me – I am sick. Did I say that already? Oh, that's because I am … nevermind.
On another note, today is the start of the 3rd month that I am doing my 'Picture of the day' project. It is pretty much a routine by now. It is neither hard or time consuming. Still educational though.
Yet on another note, today's picture is sequentially numbered 9999 by Digital Rebel. That means that I had taken 10,000 pictures with my camera in less than a year. There were few other cameras that I used through the course of the year. The number sounds impressive. At least to me.
Album location: /photos/2004/2004-11-09_POTD