If you follow my Twitter stream, by now you'd know that I've upgraded my laptop to the brand new and shining Fedora 16.  In case you were wondering how it went, I'm happy to report that everything went smoothly.  Even more smoothly than I've expected.  Given my laptop's weird wireless card, I always have this problem with kernel-kmod-something package not being available at the time of the distribution upgrade.  That usually means that I lose wireless connectivity for a day or two after I upgrade.  But not this time.  Either the package was ready by the release date or the driver that I'm using is incorporated into the distribution itself.  I don't know, and, honestly, I don't care. I'm just happy that it works right out of the box without any tweaks on my part.
I've upgraded from the DVD, since the torrent was the first downloadable option, before Fedora 16 was available via preupgrade.  The process looks very familiar – boot from DVD, choose language, choose whether to install or upgrade and existing installation (that was my choice), and let it run for an hour or so, depending on how many packages you have installed and on how fast your DVD drive is.
On first boot, the biggest difference was the graphical login screen, which looks way better now.  Logging into Gnome 3, I haven't noticed much changes.  Yes, there is an option to add your Google Account to online accounts now, which I did, but so far I don't know what it does and why would you want to do that.  I noticed that when I move to Activities and start typing, Gnome 3 searches not only through my installed applications, but also through my contacts.  But that functionality is not of much use to me.  After using Gnome 3 for about 30-40 minutes, I caught myself thinking that is is a bit faster, snappier if you will, than the previous version.  Maybe that's just me and the feeling of new, maybe it's the forced reboot after the installation – again, I don't know and I don't really care.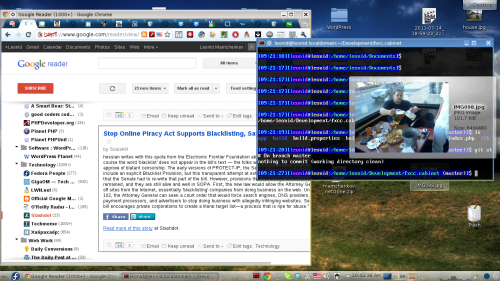 Distribution upgrade is always a good time to change habits, so I decided to give KDE 4 another try.  In the last 6 month or so I got somewhat used to Gnome 3, but it is still far away from being a productive system for me.  I've just learned how to do things I need with it, but it still doesn't feel right or gives me any pleasure.  Hence, KDE.  My last few tries, which were ranted about at length in this blog, gave me no pleasure either.  This time, however, it looks different.  Things just work the way I expect them to.  All fonts – both for Qt and GTK applications – look good and uniform, icons are on the desktop, panel has shortcuts, the start menu is in place, and, oh boy how much I've missed you, the taskbar is there.  I've almost forgot how awesome it is to see Skype icon with notifications of incoming chats without having to move your mouse to bottom right corner every time.
The performance of the KDE 4 is also much improved these days.  It's fast and responsive.  And it can still remember my keyboard shortcuts configured ages ago.  That's mighty useful.
If you are still waiting for me to describe a problem or two that I experienced, then the only thing I can give you is this.  Both Apache and MySQL service were down for some reason after upgrade.  Restarting MySQL helped straight away, but Apache didn't want to start.  I had a much customized configuration that I have been dragging from place to place, so I decided to clean it up a bit.  I disabled configurations for mod_perl, mod_python and a bunch of other features, leaving just the ones I actually need.  Restarting the service helped this time, bringing everything back to normal.
So, there you go.  In short, Fedora 16 is the next, improved and solid release for which we should thank all the Fedora community and everyone involved.  Thanks guys, you are doing a heck of a job.  Even with occasional hiccups here and there, I'm still much amazed as to how far you took this distribution in all these years.  Kudos!