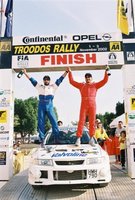 There are some indications in the web, that Troodos Rally 2004 starts today and will proceed for the next couple of days. Cyprus Automobile Association has a tiny bit on its website. There is also a brief mentioning in the news by Cyprus News Agency.
I have both called and emailed Cyprus AA for more information. Email hasn't got a reply yet. Phone is very tricky for handling Special Stages information – names of Cyprus villages are tricky to foreigners (me and the lady on the other end). I've got only few tiny bits.
The ceremonial start will be today in Nicosia at 20:30. Tomorrow, Leg 1 will go through the villages Tseri (6:53 and 12:41), Rouva (not sure about the name, but time is 7:51), Kalo Chorio (8:19), Pyrga, Kalavasos, and few other. Leg 2, on the day after tomorrow will go through the same stages, but in reverse order, if I understood correctly.
I will update this post if I get any more information via email or otherwise. Please use comments or email to let me know if you have any information regarding the event.
Update (1 Oct 2004, 13:30): I've found another news article, which mentions Kronos village.
Update (1 Oct 2004, 13:36): RallyBase has an entry for Troodos Rally. Currently it lists only the event of 2003. Winning drivers information might be useful.
Update (2 Oct 2004, 13:17): I've got a reply to the email. They have sent me
this file (MS Excel format, but OpenOffice nicely opens it) with all the locations and times of the event. Cool! They also said that fans can pass by Cyprus AA office in Nicosia to get maps free of charge. Office address is on their website.
Update (11 Oct 2004, 20:04): Links to RallyBase in the article were wrong. Fixed. Thanks to RallyBase website webmaster Tjeerd.