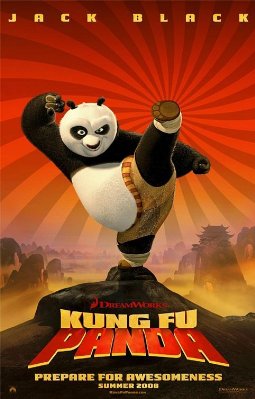 Being a great of kung fu movies, I aboslutely had to see "Kung Fu Panda".  Even though it is an animation, it still features Jackie Chan and lots of kung fu training and fights.  I don't know what it is about kung fu movies that drags me in and occupies my attention, but it's always the same.  And "Kung Fu Panda" was no exception.
And it wasn't a disappointment.  Great animation, good humor, and the best of kung fu – it's all there.  The last dumpling fight is up there with the rest of the best kung fu fights.  And an extra point for choosing the animals for characters and kung fu styles.  Lots of fun.
Overall, a 7 out of 10.  Recommended for any fans of animation, Jack Black, or kung fu movies.