To my huge surprise, I just came across a partial backup of my old blog. Most of the content is there, however the WordPress part of it is broken, and there are some misbehaviours in categories, tags, and comments.
Since many of the posts in that blog are linked from all over the web, I decided to put them back online. However, I locked the old blog and it will not accept any new comments, links, or registrations. They will be no new posts. And there is a large red box on top of every page, sending people to this blog.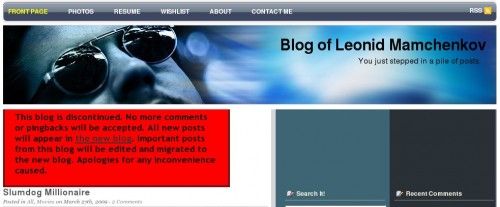 I don't think it makes any sense to fix anything else about that blog, nor do I think that merging the old one and the new one is a good idea – it will just create more work and will not sort out any mess.
Instead, I will gradually move content into this new blog. I will only move the important articles, and I will edit them to fit the site, as well as update any outdated materials.
… at least not everything is lost forever. These are good news and I am happy again.