Flickchart is yet another one of those sites that is supposed to help you choose the next movie to watch, as well as share with your friends the list of movies that you've enjoyed.  The interface is somewhat simple and straightforward, even though the functionality is plenty.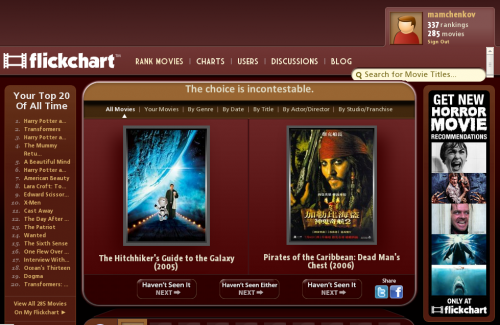 Basically, you are presented with the two movies next to each other and you have to click on the one you think is better.  If you haven't seen either one of the given movies, you can skip it for the next.  Flickchart computes your voting into a Top 20 Movies of all times list, as well as a bunch of other sub-lists – by genre, by decade, etc.
Overall, that's a much needed site with some really cool features.  There is only one problem with it.  It doesn't work.  I mean, it doesn't work as I expected it to.  It keeps throwing unknown weird films that I've never heard of at me.  It keeps giving me movies for voting which I clearly marked as I haven't seen.  And the resulting Top 20 Of All Time list is weird at best.  Some of the movies which I want there – are there, yet not at the places I'd put them manually at.  The other movies seem to not make it there at all.
There is a "By Title" voting mechanism which one could use to move things around, but that is not very useful at this stage either.  For example, I had "Avatar" at position #2.  I thought, even though it's a nice movie, #2 is a bit too high for it.  So I took the "By Title" tour and in just a five or six clicks "Avatar" ended at #46.  Seriously, WTF is going on?
As much as I'd love to use this site, I think it's still too early.  I need to give it some time to mature.  But I'll definitely be back to check out later.  Have you tried it yet?