First of all, I'd like to thank everyone who called, emailed, tweeted, facebooked, skyped, or sent me birthday best wishes via any other means.  I got all of them, and it means the world to me.  One thing all my birthdays have in common is they remind me of all the wonderful people that I am surrounded by.  Thank you all.
Secondly, a few of my younger friends, inquired as to how is being 34 years old different from being 35 years old.  As easy as the question seems, the answer is quite complex.  To ease up with the explanations, I've decided to create the visual aid that you can see below (excuse my poor skills of a graphical designer).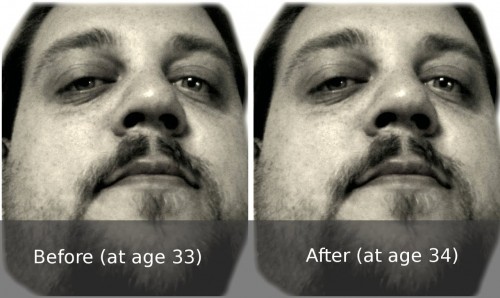 As poor as the image quality is, I think, the illustration does answer the question.  Please feel free to let me know if you need any clarifications.
Thirdly, please don't think bad of me for not inviting you to my birthday party.  There was none this year.  With Easter coinciding on the same Sunday, I felt it was slightly inappropriate to compete with religious celebrations.  Especially given the rainy weather and out-of-country trips for a few must-be-there guests.  Excuses, excuses, I know.  I was just too lazy to arrange all things in time.  Until the next year.
Once again, thank you all for warm words and wishes. I had a good one!