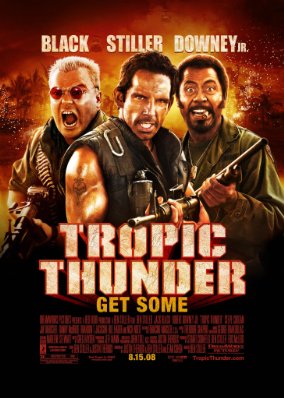 I just came back from the movies where I enjoyed an action comedy "Tropic Thunder".  To be honest, initially I didn't want to see this movie.  Silly poster, one of my most unfavourite actors and directos Ben Stiller, and a few other minor factors were all pointing to towards "You can safely ignore this movie" sign.  But then I've heard a few good reviews and changed my mind.
Gladly, the film turned out to be pretty good.  I think that make-up artists, good cast, and participation of one of the Cohen brothers in the screenplay writing saved this flick.  Ben Stiller wasn't as bad as he usually is.  Jack Black was pretty good.  Especially in that short little scene where he was tied up to the tree.  Tom Cruise was a surprise – both acting-wise and make-up-wise.  Robert Downey Jr. was really good.  He was as good as his make-up.  Extra make-up point goes for the Japanese-like looking gangster, shooting automatic weapon in the purple haze.  That was aesthetically refreshing.
There is plenty of good action in this film, with gun fights, explosions, helicopters, and so on and so forth. As for the humor – it's an interesting mix, between the low-level silly Ben Stiller kind of jokes and smart parody and satire Cohen-brothers style.  Done really well.
Overall, 7 out of 10 for good entertainment.