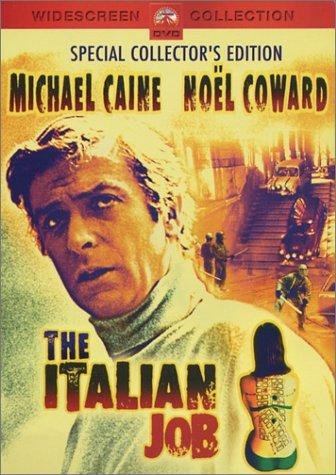 Vladimir remind me today that I wanted to see "The Italian Job" – the original version from 1969. After work I rushed to Martin's DVD club and luckily he had one for me.
Directed by: Peter Collinson
Genres: Action, Comedy, Crime
Cast: Michael Caine, Noel Coward, Benny Hill, Raf Vallone, Tony Beckley, Rossano Brazzi, Margaret Blye, Irene Handl, John Le Mesurier, Fred Emney, John Clive, Graham Payn, Michael Standing, Stanley Caine, Barry Cox
IMDB raintg: 7.3
My rating: 7.0 [rate 7.0]
I saw the remake of this film a couple of times and liked it a lot. I though that the story would be very similar to the original movie, so I was delaying myself the pleasure. That doesn't mean although that I didn't want to see it.
I was surprised to find out that the story is completely different. These two movies are about heist that use Mini's to get away. Both heists take place in Italy (kind of obvious from the title, isn't it?). That's about all they have in common story-wise.
Despite the film being rather old – from 1969 – I still enjoyed it a lot. Some stunts were amazing even by today's standards. There were also a good portion of dry English humor, mainly executed by Michael Caine. I was also delighted to see a familiar face that I couldn't remember the name until almos the closing titles – Benny Hill, who plays a freaky computer expert.
The DVD had also a lot of bonus materials, including the absolutely amazing deleted scene where the three Mini's are "dancing" with three police cars on the ice skating arena.
Overall: great experience.