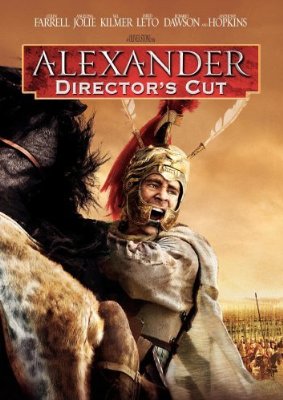 "Alexander" is one of the big time movies of the last year that I missed in the cinema. Olga was in her late pregnancy already when the movie came here and we thought that with all the battles it would be scary for the baby to live through almost three hours of it. So we skipped. Today I got my hands on a copy and watched it.
Directed by: Oliver Stone
Genres: Action, Adventure, Biography, Drama, War
Cast: Anthony Hopkins, David Bedella, Jessie Kamm, Angelina Jolie, Val Kilmer, Fiona O'Shaughnessy, Connor Paolo, Patrick Carroll, Brian Blessed, Peter Williamson, Morgan Christopher Ferris, Robert Earley, Aleczander Gordon, Christopher Plummer, Gary Stretch
IMDB raintg: 5.5
My rating: 4 stars
My reaction to this film is a bit complicated. I both liked and disliked it. It has some very strong sides and some very weak ones. And it is difficult to tie them all into one simple reaction.
First come the things that I liked.
Casting was great. Some great actors and actresses were hired for the film and msot of them worked for their money. Colin Farrell did an excellent job with Alexander. Angelina Jolie did outstanding. It is by far the best and most complex role that I have seen her in. Val Kilmer was great too.
Photography was outstanding. Coupled with amazing set design it resulted in some really magnificant scenes. One of the examples is Babylon. The quality was in par with The Lord of the Rings cities. Outstanding work!
And the story was interesting and educational.
Now for the weaker stuff.
The storytelling sucked. It basically killed the story. There were too many timeline jumps. Dates were easily set back and forth both in abosolute numbers (300-something B.C.) and relative (9 years earlier). Such timeline jumps should always be used with care. They weren't here.
The make-up didn't help. While per scene make-up was excellent, there were no aging stuff. The story tells about a rather long period of time, but all the characters keep their looks and appearences. People change. Especially when they do a lot of travelling and fighting in battles. But not in this movie. And thus it was really difficult to understand what is happening when and what follows what.
And a separate paaragraph on the battles. There were about three battles in the whole film, which lasted for almost three hours. These were not enough. There was not enough of action. And there was not enough of depth for a biographical-phylosophical movie either. So I couldn't understand which one is it and what was the main point of the film. There should have been more action I think. It could make the film a lot better.
Overall, I guess it was a good movie even if pointless and boring at times. It was worth watching it, but I am glad I skipped it in the cinema. Neither am I going to buy the DVD. Or even watch a second time.