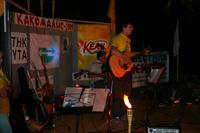 Like I promised, I'm letting you know as soon as I learned myself. Third Amateur Song Festival is coming. It will be held on 30th of October 2004 (yes, in a couple of weeks) in Kakomalis (same place as before). Organizers and volunteers will be there around 15:00-16:00. Everyone can join. The song festival itself will start around 18:00-18:30.
I am surely planning to go. I'll have to see how many people will want to come with me and how many will fit in the car. If you want to go and lack transportation, please let me know as soon as possible and I'll help you to arrange something.
If you want to follow the news and read Russian by any chance, than here is the thread at Russian Cyprus Forums.
Posts in my blog about previous events of this festival are here and here.