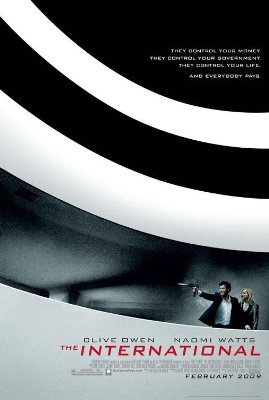 Yesterday I went to see "The International".  It's not an outstanding movie in any way, but a well executed film in one of the genres that I happen to enjoy – conspiracy.  (I'm not even sure that it's a genre on its own)
Here you've got everything a good conspiracy movie should have – special agents, huge financial organizations, corruption, lots of assassignations, and a few good guys who are ready to do anything for justice.  And, as always, they need to get bad for a greater good.  All of that was mixed with gun fights, chases, good camera work, and some special effects.  And it had Clive Owen in it.  But the problem was that this film didn't have anything (or not much at least) of original stuff.  It was very much cliche.
Recommended for the fans of the genre.  An overall of 7 out of 10.