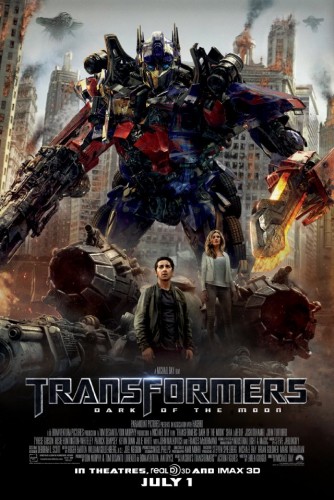 Yesterday, I went to see "Transformers : Dark of the Moon".  I'm not a big fan of 3D, but my wife convinced me that that's the only right way to watch this movie, so I agreed.  And I'm glad I did so.
If you like 3D movies, or transforming robots, or action movies, or any of the previous Transformers' films, or Michael Bay work in general, you absolutely must see this film.  And do so in 3D – even for those who don't like 3D, it is an excellent experience.
As for the film, Michael Bay broke the measuring ruler once again.  He is off the scale.  The film is bigger, larger, and more than any other film I can think off.  It has everything previous Transformers had, and more.  And of the things that previous Transformers had, it has more.  More robots, more fights, more shooting and explosions.  More space travel.  More special effects.  More 3D. More, more, more.  It has so much of everything that I would walk away happy half time into the film.  But when the whole thing was over I really was amazed as to how much went into it.
On top of that, both of the items that somewhat annoyed me in the previous Transformers movies were corrected in this part.  First was Megan Fox.  I don't know why everybody is so fond of her.  I don't find her beautiful, or smart, or a particular good actress.  She's out and Rosie Huntington-Whitley is in.  She wouldn't be my first choice for the role, but she is definitely an improvement on Megan Fox.  Secondly, in previous Transformers, robot transformations and robot fights were too fast.  There are too many details to notice them all and they were often done and off the screen before my curiosity was satisfied.  In this part,  there are more details, more fights, and more transformations.  Also, there are a few excellent slow-downs – important moments are slowed down to a crawl with a few humorous touches added.
Actually, I have to mention humor separately.  This part is not as serious as the previous ones.  There are plenty of funny scenes, situations, and jokes all over the film.  I couple of times I was even laughing out loud, which is a rare occasion.
Overall, I think the film provides all the entertainment you could put into a movie and more.  It pushes the boundaries of sci-fi cinematography and visual effects. And for that I will of course give it a 5 out of 5.