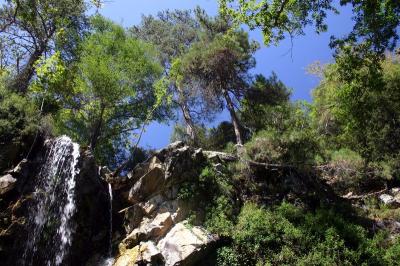 Best trips are usually spontaneous. No planning, no strategy – just a will to have some fun. My friend Dmitry and his wife Lana called me up today and said that they are about to leave on a trip to mountains and asked if I would join them. I did. It's been a while since I went up there so I was glad I had a chance to go again.
We drove up to Platres and parked near the famous Psilo Dentro restaurant with a trout farm. Dmitry and Lana convinced me to take a walk to the waterfall. It shouldn't have been any futher than a kilometer away, and the walk was supposed to improve our appetites. I've been numerous times to the Psilo Dentro restaurant, but I never went to the waterfall. Today I decided that it's finally time to see it and be done with it. So I agreed.
The road turned out to be much tougher than I expected. It was long, heavily upstream and with lots of obstacles, like huge stones and waterstreams that had to be crossed via stepping stones. It would have been much easier if I didn't have the camera to take care of.
Anyway, about 40 minutes later we finally reached our goal – a small waterfall. There was nothing particularly spectacular about it, but I made a few snaps anyway.
Quick return to the restaurant for an outstanding pork chop and beer. Now don't get me wrong – I am all for grilled trout. Especially when it comes as fresh as it can possibly be. But Psilo Dentro pork chops are perfect. They are of the proper size and also juicy, and delicious.
On our way back to Limassol we had lots of laughs as Lana navigated us through the brief history of terrible Russian pop music. The tour ended with one of the tapes getting stack in the player with no hope of being removed, stopped or paused. It'll play until the age of times. Or until Dimitry will get himself a new car.
I had a great time today. I should go again some time in the near future. I want to go together with Olga and Maxim. They need a good day out with some fresh air.
Album location: /photos/2005/2005-09-11_Troodos