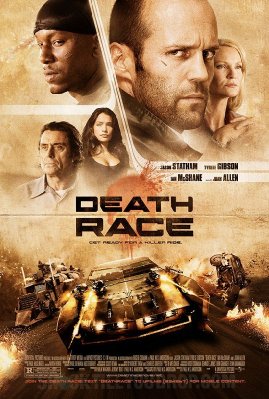 Just came back from watching "Death Race" in the movies.  Back when I saw the trailer for this film, I thought to myself that it looks like a very safe recipe. I mean, you have Jason Statham as a driver, lots of cards, some hot girls, plenty of chases and shooting.  What are the chances of it going bad?  Practically none. But what are the chances of it turning into something interesting and original?
It turned out that whatever were the chances, they weren't enough.  On one hand, we indeed have Jason Statham and lots of cars, shooting, and explosions.  The special effects were done nicely, and there was not much screen time without something brutal happening.  On the other hand, there is nothing new.  In fact, the story and the circumstances were simplified a lot, and in such a way that there is no need to explain anything or to connect the story pieces together with long talks or travels.  The plot is simple and uncovers itself in all obviousity (did I just come up with a new word?) at approximately the fifth minute of the movie.
Was it bad?  No, it wasn't.  It was worth every penny, and was well worth the time I spent.  Chases were nice, characters were not bad, and I liked most of the effects.  The whole thing is pretty dynamic and enjoyable.  It was also made for the big screen.  But seeing it once is enough and I doubt that I'll buy or rent it on DVD.  At least, any time soon.
An overall rating of 6 out of 10 is, I think, appropriate.