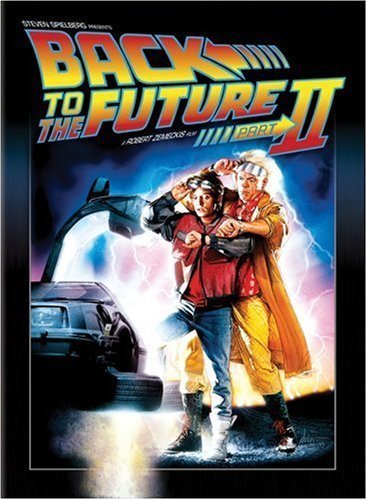 The television is getting better. Apparently they decided to show the complete trilogy – one part every day. Today they showed the second part – "Back to the Future Part II".
Directed by: Robert Zemeckis
Genres: Action, Adventure, Comedy, Sci-Fi
Cast: Michael J. Fox, Christopher Lloyd, Lea Thompson, Thomas F. Wilson, Elisabeth Shue, James Tolkan, Jeffrey Weissman, Casey Siemaszko, Billy Zane, J.J. Cohen, Charles Fleischer, E. Casanova Evans, Jay Koch, Charles Gherardi, Ricky Dean Logan
IMDB raintg: 7.0
My rating: 4 out of 5
This part is somewhat weaker than the first film, but it's worth seeing anyway. Some of the ideas for the future were really cool – others sucked completely. 15 years later it's easy to say though.
The atmosphere of the film follows the first part very closely and that's what counts, isn't it?
Strongly recommended too.