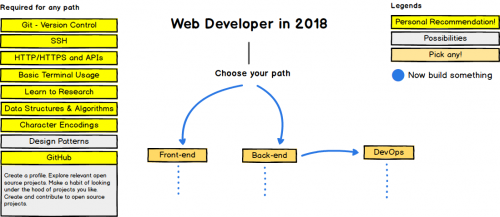 I've been saying for years, that there is no such thing as a "full stack developer", no matter how many CVs your HR department processes per day, matching the title.  Web Developer Roadmap is a cool little GitHub repository, which maps the road for becoming a web developer in 2018.
It shows technologies that you need to get familiar with, depending on what kind of a web developer you want to become – front-end, back-end, or DevOps – and how to organize your learning and move from one technology to another.
The reason the "full stack developer" isn't there, is, I'm sure, because that just combines all of the other ones.  And each one of them is way more than can fit into a single human head.  So the combination would probably make it explode.
Even if you are already an experienced web developer, this roadmap is a handy thing to keep around, as it gets updated as things change.  And in web development things do change, and they do so frequently.