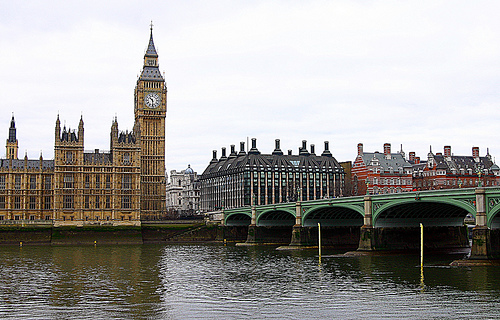 This is a much delayed post about my tour of London.  It took me a whole week to download, post-process, and upload all pictures to my Flickr photostream, and I didn't want to blog without all of them being up, so apologies for the delay.
First of all, what have I seen?  Took a bus from Hilton Olympia Hotel at High Kensington Hotel, passing by the famous Hyde Park, to Trafalgar Square.  From there, walked down the Whitehall Parlament street, saw the Big Ben around the corner and continued walking down the Abington street.  Crossed the river Thame, walked up to the Westminister bridge, and further up to the London Eye.  A short break for the London Eye trip up and down, and then more walking all the way to the Tower bridge.  Crossed the Thames river once again and went into a diner near the Tower of London.  That was enough walking, especially after the food and pints, so the tour continued on the bus, which took me around the city up and down, left, and right, in corners and circles, until I ended up at the Baker's Street next to Madam Tussod's Museum.  Spent almost two hours in, and then took a subway back to the Trafalgar Square, where I had and excellent stake with more beer at Smollensky's Grill Bar.  After that, took the bus back to the hotel. Here is the Google Maps link to the center of London, and here is the screenshot of that with my walking route marked in blue (click for the larger version).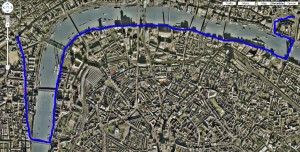 Secondly, here are all those pictures that I've taken:
Tour of London – more than 200 pictures taken both while walking and on the bus.
London Eye – almost 40 pictures taken while on the London Eye flight and around it.
Madam Tussod's Museum – a few pictures I snapped inside the museum.
Thirdly, my impressions.
The city.  Really amazing.  Lots of beautiful architecture, parks, statues, museums, spaces, history, and everything.  Very well mixed together.  One of hand, there is a lot of stuff there.  On the ohter hand, everything is spaced out nicely.  Very harmouneous.   It felt like I've seen quite a bit of everything, but also that a lifetime won't be enough to see even half of what is there.
The people.  Was a bit surprised as to how many different peoples are mixed in on the streets.  Of course, I realize that I've been mostly around tourist attractions, but even when away from the center of London, it still felt like every race, age, and nation has been represented on the streets.  Very cool.
The transport.  Very well organized, efficient, and clean.  Buses and subway are all over the place.  Maps, tickets, notifications, roadworks announcements – all well taken care off.  It was also nice to see how much attention is given to disabled people – priority seats, voice notifications, stations with special access, labels on the map, etc.
The rythm.  Most of the big cities are well known for their crazy rythms – everything moves fast, people in hurry, nobody has no time for anything.  London wasn't like that a lot.  Some people were in hurry, yes.  But there were plenty of slow walkers around.  People in parks.  People jogging.  People wondering around.  Very calm atmosphere for the city of its size.
The beers.  The last but not the least are the beers.  First of all, they are everywhere.  Secondly, there is a great choice of brands and flavours.  Thirdly, either they are fresh, or their water is different, or both, or something else, but they taste very different from what we drink in Cyprus.  Even the same brands, like Guiness for example, have a totally different taste.  So much better that I miss them already, and it's been only a week.
These are, of course, the brief reactions.  I've been very imporessed and I want to go back and spend more time there.