Slashdot is running a discussion thread on what are the best browser extensions these days.  The comments cover a variety of browsers and all kinds of extensions.  The most popular are, of course, well know.  But there are a few gems here and there.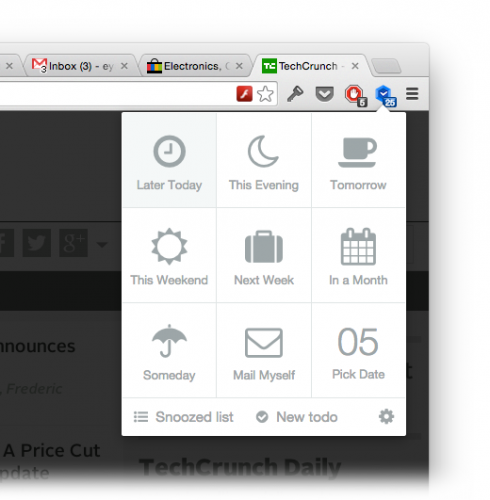 For me personally, I've picked the Tab Snooze extension.  I've tried quite a few tab management solutions, and neither one of them fits my needs even though most tried (I want to run a single browser window, with dozens or hundreds of tabs open, but I want them to be organized into groups and hidden until later, when I need them).   Tab Snooze approaches the problem from a slightly different angle. It sets the reminder for when to reopen the tab, and once that's done, it closes the tab.  You can find all snoozed tabs and open them before the due date, of course.
This works surprisingly well for me.  If only I could control the opening of the tabs with something like "17 tabs were woken up and are about to be open. Continue?".  Currently, I get the notification and the tabs are open automatically, which is often not at the best time.  Waking up a lot of tabs can slow the system down a bit and get in the way of things on which I'm working at the time.