Every day some new super hyped web service is born, and every other day some old web service is decommissioned. It's been going on for so long, that rarely do I pay much attention to these things.  I need a few recommendations. I want to hear excitement. I want to hear why and how this can be useful to me.  A mere press release doesn't cut it.
Today, I was recommended a service that is so easy and useful that it blew my mind.  Ladies and gentlemen, I give you appear.in .  Think of the all the good things Skype is, without all the bad things that come with it.  Video, voice, and text chat, screen sharing, free, multiple participants (up to 8), private and public conversations, excellent voice and video quality, and no installation of software necessary – works right out of the browser, even on the mobile.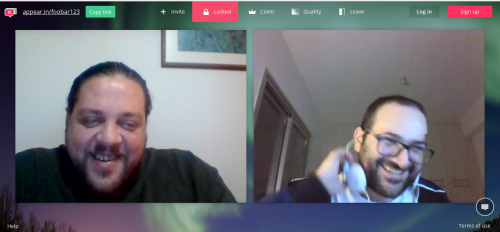 It's so easy and fun to use that I've spent most of the day chatting to my colleagues even when they were in the same room.  We had two and three way conversations with screen sharing and text messages (handy for the URLs) and it worked really well.
Come to think of it, the only thing that I didn't see (maybe it's there and maybe it's not) is file transfer.  But there are so many different ways these days to send a file that I don't worry about that too much.  A quality video chat with screen sharing is a different ball game altogether.
Enjoy!