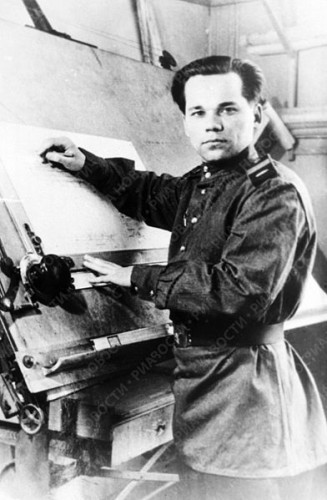 Mikhail Kalashnikov, the designer of the world famous AK-47 assault rifle, has passed away today, at the age of 94.  He was a true genius and a patriot of his country.  Coming from a very simple family, with very little education, after serving as a tank mechanic and later as a tank commander, after being wounded, he designed more than 150 models of small weapons – rifles, assault rifles, machine guns, etc.
Blame the Nazi Germans for making me become a gun designer … I always wanted to construct agriculture machinery.
Such were the times, I guess – growing up in the post Civil War, Revolution and First World War country, serving during the Second World War and seeing all horrors and dangers first hand, his peaceful mind was turned the other way.
I'm proud of my invention, but I'm sad that it is used by terrorists … I would prefer to have invented a machine that people could use and that would help farmers with their work — for example a lawn mower.
Looking into his engineering genius, I see the good old principle of keeping things simple:
When a young man, I read somewhere the following: God the Almighty said, 'All that is too complex is unnecessary, and it is simple that is needed' … So this has been my lifetime motto – I have been creating weapons to defend the borders of my fatherland, to be simple and reliable.
Truly inspiring.  RIP.