Plenty has been said in this blog about the social bookmarking service Delicious over the years.   Lately, discussions of the Delicious fate were falling into the sadness.  After the web service was bought by Yahoo, it was maintained and developed for a while and then began to slow down.  Things got so bad in fact, that Yahoo announced that it was selling the property.  That was a moment of panic for many – after all, good or bad, Delicious was a storage of vasts amount of wisdom for many people.  Pretty much every user at the moment exported data and made a few backups.  Most looked at the alternative services.  Some started moving over.  I was in that group as well, migrating all my bookmarks to Evernote.
Anyhow, Delicious was acquired by a couple of guys who are famous for their work on YouTube, back in the day.  And that was a glimpse of hope.  Finally, I thought, geeky techies will know what to do with it.  They will know how to breath some life into the project and bring its much deserved popularity back.  They will prove me moving all my stuff to Evernote wrong.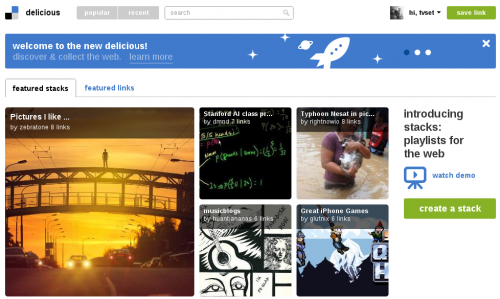 Finally, a few days ago, the new Delicious went live.  Fresh look, new features – things that we all were waiting for.  Or so it seemed.  Upon a closer look it turned out that most of the old useful features are gone.  And the new features aren't the ones everyone was waiting for.  Overall, this is a huge transformation of the service that Delicious is.  Part of it is still Delicious – there are still bookmarks and tags.  But part of it is something new – stacks, improved multimedia previews, missing networking, cropped tag navigation, and such.  The primary focus of the service moved.  Before it was primarily a storage of bookmarks.  And secondly, a place to share bookmark wisdom via networking with friends, tagging, and search.  Now, it's more of a fancy multimedia collections or something of a sort.
Don't get me wrong – I'm all for new and exciting technologies.  But for me personally, Delicious was something completely different.  And now, with this new release, the last hope of that old Delicious the memory of which I love and cherish, is gone.  It's no more.  The end of an era.  It's time to move on and explore the new age.  Delicious is dead.  Long live Delicious.