For years I've been complaining about the web design situation in Cyprus.  Most web design companies here suck.  And most of the websites that they do suck even more.  Once in a while, though, I'd mention this or that website that was standing out.  Finally, I can mention a web design company that stands out and that makes websites that stand out too – Sideshow.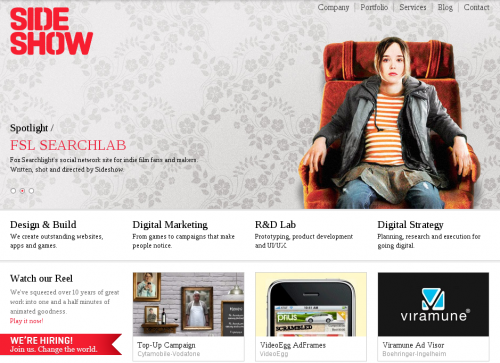 Yes, like every other company, they have their problems (front page of their website doesn't validate clean) and they don't do everything the way I would have done it (they are using Vimeo for videos, not YouTube), but I am still impressed with their work.  They use Drupal CMS extensively.  They truly know what social media is about, with Facebook and Twitter integrations and team tweets, their own blog, RSS feeds, and more.  Their design work is fresh and modern.  And their portfolio is shining.  Remember, when I was praising the new Cyprus Mail website? That's the company who did it.  They even print their business cards with Moo, what more can I say?
I'm so glad I found them.  I have people left and right asking me where to go for a new website, and until now I have been very reluctant to refer them to any of the webdesign companies I know.  But now I have a proper reference.  And even though I haven't worked with them personally, I think I am in the position to judge their work.  And as I said, I am impressed.  Respect!
P.S.: no, this is not a paid ad.  I truly am glad and impressed.
P.P.S.: if you are a web designer or web developer in Cyprus, they are hiring.  If there is one web company to work for in Cyprus, that's this one.