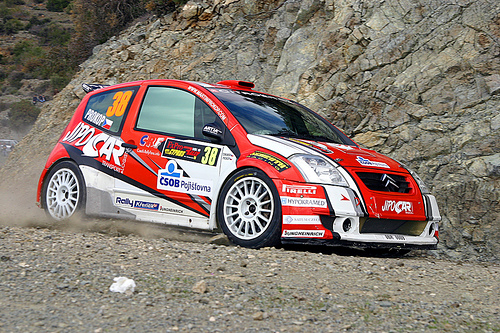 This year, World Rally Championship is back to Cyprus after a long break.  I've been at the shakedown stage today and made quite a few pictures.
There are much less teams this year due to tough financial times, but those people who I wanted to see – Sebastian Loeb and Peter Solberg are here.  Solberg represents his own team and drives Citroen instead of his usual Subaru Impreza.  Subaru World Rally Team has a new car for this season, which is a hatchback.  If I remember correctly, they are the last major team to switch to hatchbacks.  Pity, as these small cars are not as impressive as the larger ones.
Tomorrow the special stages start.  They are further away than in previous years, and further apart, but should be fun to watch.  Tickets are 5 EUR per stage or 20 EUR (not completely sure) for the pass to all stages. Don't forget to grab some warm clothes for the mountain stages as it is pretty called up there.