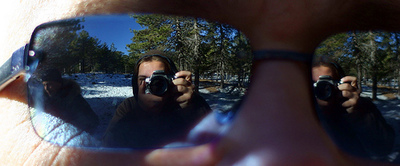 I am back from my short vacations. I went with my wife and son and a few friends to Platres village in Troodos mountains (these are some of my older photos – I wish there was that much snow this time). For three days and nights we stayed, once again, in the Forest Park Hotel.
Fresh mountain air, some snow, lots of good company, and plenty of food and drinks were just what I needed to recharge my batteries.
Here are a few things that I was surprised with:
I stayed offline for three days. There was Cytanet's WiFi connectivity in the hotel, but I wasn't too enthusiastic about the Web for those three days. I connected briefly only once, about an hour before midnight of the New Year Eve, just to look through my GMail messages. Haven't even opened any of them.
I shot way too few pictures. Considering all the free time I had, all the nice people and beautiful scenery around, that wasn't like regular me. All pictures have already been uploaded to New Year in Platres set at Flickr.
I haven't got really drunk. Although I planned. Most of the drinking started inside, either at the taverna or at the hotel, but soon moved outside. Cool fresh air was, it turned out, stronger than vodka, which I had plenty of. Oh, well, I'm not sad about it. Just surprised. I had great time anyway.
I did lots of walking. Much more than I though I would. I walked even when everybody else refused to. I was going out alone and just walking in the forest. Definitely not like regular me.
As I said, I had great time and now I am rested and ready to jump back into blogging and programming – two activities that will occupy most of my time for the nearest future.
How was your New Year's celebration?
Update: Here are more photos from the real photographer.