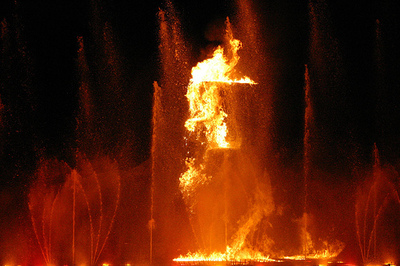 Finally, finally I did it! Only about six month ago I've heard that there is some sort of dancing water show somewhere in Protaras. For the last couple of month I was trying to get there, but for a number of reasons, such as mood, money, and time, I couldn't. One of my most recent attempts failed, although I was all set for the show. It was sold out.
Today I have finally saw it. I went there with Maxim, Olga, and her sister with husband and two daughters. 4 adults, 3 children – 7 people in one car.
Before we left Limassol, I called and made a reservation. Just so that we were on the safe side.
When we arrived, we had some negotiations about the tickets and managed to get a rather nice discount – 49 CYP for everybody, instead of 75 CYP. Two kids were allowed free of charge, and we were advised not to pay for the buffet for the third kid.
Our table (two tables actually) was at the best place possible. It was in the center and not far from the pool. Too close would have been worse, because of all the water, smoke, and heat of the fire during the show. Too far would be worse, because of all the extra distance.
Since we had about an hour before the start of the show, we went for the buffet. There was enough food, and it all looked good – salads, meats (beef, pork, chicken, sausages), potatos, rice, dessert, fruits, etc. Plates were large enough to comfortably accomodate all the food, and an extra plate was available for fruits and sweets.
Drinks were all extra. The menu was quite nice though – juices, soft drinks, tea and coffee, beers (small bottles only, unfortunately), some selection of wines, cocktails, spirits, etc. All at reasonable prices, except for beer.
The hour went by quickly and the show started. The first ten or so minutes were very nice – all sorts of water dancing with music, and some smoke. Then it got boring for a bit. It looked like all the same. I had enough time to enjoy it as a regular spectator, as a photographer, as an engineer, as a grumpy Russian, as a proud Cypriot… and then I had some more free time on my hands. I was close to being disappointed.
But then, gladly, the real fun began. More water, more smoke, lasers kicked in, and the jewel of the show – fire. Lots of it. Insanely mixed too. And breathtaking it was!
The show continued for about an hour and it was worth every penny. If you are in doubt weather you should see it – go right away. You won't regret.
I made a few pictures while there, but nothing special came out, due to low light conditions and constantly moving subjects. By accident, I noticed that Christakis Ergatides has a few pictures of his own, posted to Flickr about a month ago.