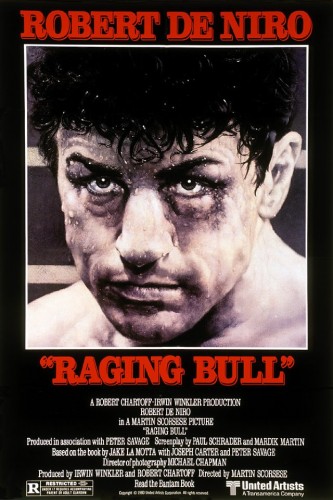 I wanted to see "Raging Bull" for some time now. This one was chosen mostly because it is a classic and I didn't want to leave any gaps in my movie self-education.
Directed by: Martin Scorsese
Genres: Biography, Drama, Sport
Cast: Robert De Niro, Cathy Moriarty, Joe Pesci, Frank Vincent, Nicholas Colasanto, Theresa Saldana, Mario Gallo, Frank Adonis, Joseph Bono, Frank Topham, Lori Anne Flax, Charles Scorsese, Don Dunphy, Bill Hanrahan, Rita Bennett
IMDB raintg: 8.4
My rating: 7.0 [rate 7.0]
I have a complicated history with Martin Scorsese movies. I really liked some of them (Casino, Goodfellas, Aviator) and really disliked others (Taxi Driver, Gangs of New York). So I was a little bit sceptical about this one.
I didn't like the film. I understand why many do though. It is an excellent piece of work with a lot of technological discoveres, interesting solutions and good acting. But Scorsese's drama work did not touch me at all. The film is too slow for my likings and concentrates too much on the obvious things.
I appreciated excellent music, acting – especiall on the part of Robert De Niro, Cathy Moriarty, and Joe Pesci, and choreography of the boxing scenes. I also was very impressed by the diet work that was done by Robert De Niro – he gained almost 30 kilograms over the course of the movie. It helped to portrait the changes his character Jake La Motta was going to through.
I'm glad I saw this film, but I can't say that I enjoyed it a lot. It added to my understanding of the other films though.