I came across the announcement for the Geroskipou Beer Festival somewhere in my Facebook stream.  Being a big (literally) fan of beer, I couldn't not post it.  Even with the heavy heart after all the previous beer festivals I've been to in Cyprus.  This one seems to follow the general pattern: 5 EUR entrance buys you one beer.  You'll pay for the rest, and there are about 40 different ones to taste.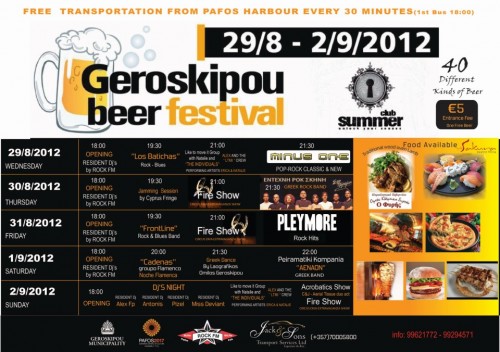 As these festivals usually go, you'd probably overpay for the beers, and the variety won't really be of 40 different brands.  Judging from previous experiences, small can of Keo, large can of Keo, small bottle of Keo, large bottle of Keo, and a draught Keo – are five different varieties and not one.  Heck, I'm not even sure I can list 40 different brands even if I'll remember all the beers I ever drank or saw on sale in Cyprus!
Just for the fun of it, I'll try .  First of all, the local ones, obviously: Keo, Carlsberg, and Leon.  Mythos from Greece.  Then the usual suspects: Hoegaarden, Guinness, Krombacher, Stella Artois, Warsteiner, Veltins, Heineken, Beck's, Budweiser, Pilsner Urquell.  Then slightly less usual suspects: Kilkenny, Caffreys, Erdinger, Konig Ludwig and Konig Ludwig Dunkel, Weissbier, Franziskaner, Amstel, Grolsch, Fosters and Bavaria.  Then a few Belgian beers: Blanche, Duvel, Kwak, Leffe (blonde, dark, and red), Chimay. A touch of Mexico with Corona and Sol. Ciders, although not technically beers, are almost always present at beer festivals – Magners, Strongbow, Woodbecker and Somersby.
How many are these? 38.  Throw in a couple of non-alcoholic names that I don't know, a coupe of Asian (Chinese and Japanese names that I cannot remember), and, just to get rid of any doubts, a couple of nice ones from Bavarian Delikatessen shop – those names are tough even for Bavarians.  There you go – 40 or so varieties.  Now, can you imagine all of them in one place?  I can't.   Not even in supermarkets which offer a great variety these days.
Somehow, the more I think about this festival, the more I think it'll be like the others.  What do you think?  Is it worth driving all they way over to Geroskipou just to get the same beers you can get in any Limassol pub or supermarket?