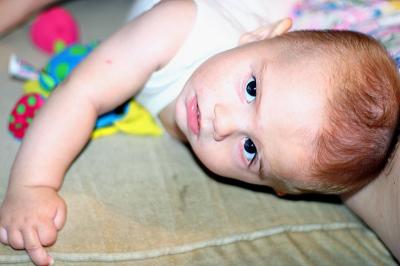 Today I finally received my order from Digital Foto Club. Canon EF 50mm f/1.8 II lens and 52mm circular polarizer. Somehow they forgot to put the lens hood in the box. This issue still needs to be cleared out.
I ran home with the FedEx box eager to try the new lens. Quickly unpacked and unwrapped everything. The lens looks tiny. It is about twice as small as Digital Rebel's kit lens (Canon EF-S 18-55mm). And it looks strange too, but that might be because I haven't seen a lot of lenses this close.
I put it on and tried it at home. There was almost no light coming in through the window, but there were a couple of 100 Watt tungsten lamps on. Not the best light at all. And pretty unfortunate one for the kit lens.
Since both of the lenses that I have are zoom lenses, I am used to holding the camera with my right hand and having my left hand on the zoom ring. Canon EF 50 mm f/1.8 II is a fixed lens, meaning that it doesn't have a zoom ring. That felt awkward. I didn't know what to do with my left hand.
Anyway, I shot a few frames and felt amazed. When opened fully to f/1.8 the shutter speeds between 1/20 and 1/40 were suggested. And I had ISO set at 400. Wow. I can actually photograph moving people in my living room. In the evening. Without a flash.
That last point might not be entirely true though. I made a few more shots and realized that a flash light is still necessary. But it is not mandatory. It just gives that nice touch of catch lights in person's eyes.
When I dumped pictures to the computer, I was impressed even more. The range of colors and sharpness were much both much better than those of the kit lens.
I am not trying to write the complete lens review here. These are just my first impressions. I am glad that I bought this piece. It will be my default lens for some time now until I'll get the hang of it. I'll tell you more later with appropriate pictures, EXIF data and full size samples.
That, of course, if I won't get too lazy…
Album location: /photos/2005/2005-07-26_POTD