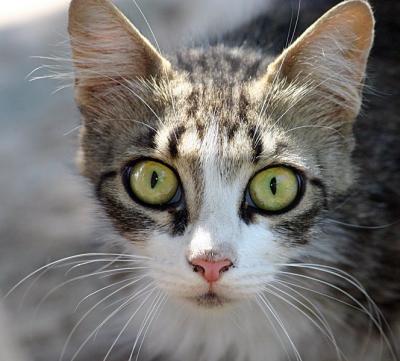 I just love photographing all live creatures. My problem is that I am too shy to photograph people unless I know them very well or unless I am keeping safe distance and do it fast. My other problem is that I don't have a macro lens to photograph bugs, flies, and other insects. And my yet another problem is that I don't have any pets. All of these problems make finding subjects pretty tough for me.
Today, while walking with Maxim in the park, I met this cat. She (yes, it was a she) had some business around the bench that we were using, and she didn't mind me photographing her at all. She posed for me in different locations – on the ground, on the roots of the tree, up on the tree, in the bushes, etc. I made something close to 100 shots. Almost all of them came out good, and those which didn't still had some potential. In order not to have a bunch of similar and thus boring pictures, I decided to play a bit with Gimp and postprocess them differently. Needless to say that I got bored somewhere half the way. As usual. I started deleting pictures. Or processing them in a fast, copy-paste manner. Or ruining them on purpose.
Anyway, I still managed to get a good number of pictures and hopefully they wouldn't bore you too much while you'll be looking at them. Let me know which ones you liked better.
Album location: /photos/2005/2005-06-18_POTD