Andrey Shvachko becomes a continuous source of musical events in Nicosia. This time he informs that there will be a live music evening in Getonia ton Osmaton club. There will be two bands. The first one is Jazzmania, from the Nothern Republic of Cyprus. Probably they'll play jazz, but you can never know for sure. The second band is called OS (and yes, Andrey is a prt of it too). It will play western coast rock-n-roll with hits from such famous bands as Grateful Dead, Chris Rea, Brian Adams, Beatles, and Whitesnake.
The evening program will start at 20:30 and the entrance fee is 5 CYP. The ticket includes food and drinks.
Getonia ton Osmaton is in Aglandjia part of Nicosia, not far from Filoxenia hotel. Andrey will probably provide the detailed map, with instructions on how to find it, a bit later. I'll post it here if and when he will do so.
: Andrey posted the map. Here is the copy for you.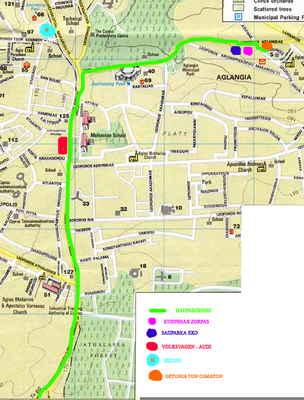 Green line shows the road to follow. Magenta dot represents Zorpas bakery. Blue dot stands for EKO petrol station. Red is for Volksvagen-Audi shop. Cyan dot with an "H" inside shows the Hilton hotel. Orange spot is for the Getonia ton Osmaton club.