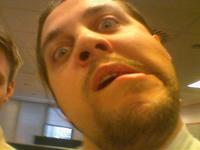 Today's assignment was to use a different camera. Something that doesn't have all the bells and whistles. In fact, the less control – the better. The only other camera except my Digital Rebel that I have is the small and weak thingy on SonyEricsson P800.
I've made a total of 5 images and 3 are more-or-less OK. One is outstanding – my self portrait. It just has all there is to the snapshot with a crapy camera. I love it.
The album for today is here.