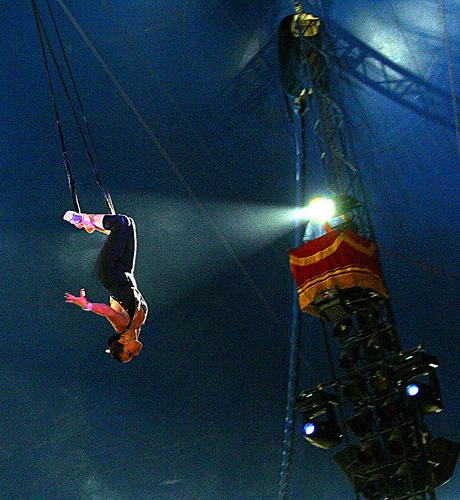 Maxim and I went to the see the show of the famous Medrano Circus on Sunday.  It was supposedely the last day of their tour, but gladly they decided to delay their departure and will be staying until Wednesday, October 29th.
It's been a long while since I was in circus myself.  But I still remember bits and pieces of many shows that my mother used to take me to.  Plus, I've seen quite a bit on TV, which, of course, isn't the same as being there, but still better than nothing.  Most of the shows that I've seen in real life were performed by Russian circus troups.  While similar in concept, I remember they felt a bit different.  Maybe that's because I was a child back then, or maybe they were indeed different.
Parts that were similar to my memories included clowns, acrobats, lots of animals, and magicians.  Parts that were different from what I remember seeing in the circus had motorbikes, movie scenes, absense of large dangerous cats (although, probably a different program of the same circus features that, since we saw some tigers outside in the cages), and absense of fences during animal shows.
Animals were excellent.  Lots and lots of horses.  Quite a few cames.  Some elephants, lamas, buffalos, giraffes, and a dog.  There was also a mobile reptile house with a few snakes, crocodiles, and … rats.  All animals looked well cared for, feed, and all such.
Movie scenes in the circus were interesting and looked and refreshing.  Indiana Jones was probably the best, even though somehow he had overcame his fear of snakes.  Pirates of the Carrebean were more like a theme, than an actual scene.  Yet very egaging.  And a scene from Aladin cartoon was massive, with decorations, lots of people, camels, fire, and even a flying carpet.
But what totally captured me was the metal ball of death.  The motorbike show.  Again, it's been a  long time since I saw one live, and the one I saw last impressed me quite a bit, but this one was on a totally different level.  It was unbelievable.  Just this part alone was worth the ticket and the time.  It was a small metal ball, which was barely large enough to hold three motorbikes with their riders.  They were circling inside, changing angles, holding hands, and doing all sorts of dangerous stuff.  And then they were joined by another two!  Five altogether.  I couldn't believe they could even fit in there, let alone circle and circle on their bikes, up and down, left and right, across each other's path. I even got a bit of it on mobile phone video (to be uploaded one of these days).
Overall, it was definitely worth the experience and the money.  Although Maxim at his three and a half years old is a bit too young for the show like this, he still enjoyed it.  And it would be a pity if we missed it.  If you still can't make up your mind about whether you should go see it or not, I strongly suggest you do.  I mean, go.  It's worth it.
The show lasts around two hours.  There is a break in the middle, during which you can go outside and optionally see the circus zoo.  Show tickets are available in three price options for V.I.P (seats in boxes closest to the arena), Seats A (a bit further), and Seats B (the most distance, even though not too far at all).  We took the V.I.P tickets at 25 EUR per adult and 15 EUR per child.  Tickets for seats in zones A and B are cheaper.  If I remember correctly, zone B costs 15 EUR per adult and 3 EUR per child, but I wouldn't count on my memory that much.  You'll also be offered a program for additional 3 EUR.  You can live without it, but if you are a type who likes each and every souvenier, then get it.  Zoo tickets are additional 2 EUR per head (no matter adult or kid), and you can get them at the entrance of the zoo during the break, not at the entrance of circus.  By the way, if I got it right, V.I.P tickets provide some sort of discount or free entrance to the zoo, but I didn't pay enough attention to get all the details.
Shows are running daily at 18:00 and 20:30.  On Sunday, there are an extra two shows at 11:00 (that's the one we saw) and 16:00.  If you can get more information via phone at 25-722-987.  Oh, and if you haven't seen the tents, they are right next to Tsirio Stadium in Limassol (clearly visible from the motorway).
While we were there, I've made quite a few pictures.  You can see them all in my Medrano Circus set on Flickr.  I've uploaded them all, but didn't have the time yet to title, describe, note, and tag them all properly.  Also, as I mentioned earlier, the video of the motorshow is missing – I'll upload it shortly.