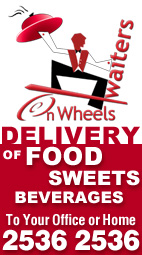 In times when there is no food at home or you are not in the mood to go anywhere, pizza delivery is the most common (and sometimes the only) option. There is another option for Limassolers, which existed for some time now, but only recenlty came to my attention. Waiters on Wheels.
These guys have made agreements with a number of restaurants and now provide you with a single menu that combines a huge number of choices. You can get anything from traditional Cyprus souvla through steaks to French and Russian food. Soft drinks, beer, and wine are in the menu too. They even offer items which are rearly to be found on delivery menus, such as sweets, cakes, potato chips and corn flakes.
Delivery is surprisingly fast and politely smiling. Waiters on Wheels delivery also to Limassol suburbs like Erimi and Pareklissia. Minimum order is 10 CYP which is more then reasonable. Stuff like corn flakes and potato chips can be delivered to you for 1.25 CYP or free if order some food too.
Add to finish this perfect picture with a nice touch – they have a website, which is actually practically useful and nicely looking. Their printed material is of equal quality. And that is something that you don't see every day in this country.
P.S.: now did it look like an ad or what? :) Here is a disclaimer – I am not in any way affeliated with Waiters on Wheels. I haven't been paid or in any other way benefitted from writing the above post. I am just a guy who likes good service, good food, and professional execution. :)