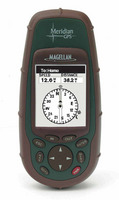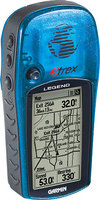 My quest for handheld GPS device continues. I have acquired a better picture of the market and of what I really want and need in the device. Currently, the best two candidates are Magellan GPS (picture on the left) and Garmin eTrex Legend (picture on the right).
These two devices are very similar in make and functionality. Forums and reviews that I've read split aproximately 50/50 in recommending either one of these. The price difference is not that great also. Garmin's Legend seems to be $20 USD or so cheaper. Froogle prices for Magellan GPS are here, and for Garmin eTrex Lenend – here.
My previous favorite was Garmin eTrex Vista. Vista is about $100 USD more expensive then Legend. Both devices have the same make and functionality with Vista having some extra memory (24 MB vs Legend's 8MB), altmeter and compass. I am willing to sucrifice these for 100 bucks though. :) By the way, Garmin website has an excellent product comparison page.
I still haven't made my mind yet, so any information that can influence my choice is mostly welcome.