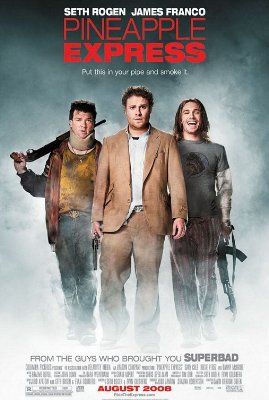 I just watched one of the worst films of the year, maybe even two – "Pineapple Express".  It's one of those films which is not funny enough to be a comedy and not serious enough to be an action movie.  All the main characters are stoned during the whole film, but being an average actors and not being actually stoned while shooting the film, that looks pretty bad.  I mean, I'm all for people to do silly things, but people who badly pretend doing silly things, it's just silly.
There were a couple of good scenes, but they were very short and far apart.  There were some special effects, with explosions and such, but definitely not enough to save the film.
And on top of that, the film is rated 7.3 on IMDB, with more than 50,000 voters.  I don't know who all of those people are, but them being all in one place is actually scary.
My rating – 2 stars.  Barely.