If there is one place to be on August 19, 20, and 21st this year, it's Pukkelpop 2010.  Pukkelpop is the largest alternative music festival in Europe, with an amazing list of bands coming to perform this year and without tens of thousands of fans gathering from the whole world.  Here are just some of the bands in the line-up for this August: Placebo, Iron Maiden, The Prodigy, Blink-182, Limp Bizkit, NOFX, Bad Religion, Gogol Bordello …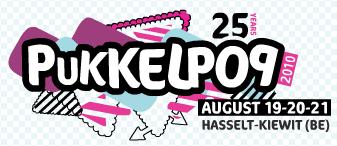 I'm sure this year it will a party like no other – Pukkelpop is celebrating its 25th year!  Happy birthday, Pukkelpop!
P.S.: Why am I so excited about the music festival somewhere in Belgium?  Because I was there last year and it was quite an experience.  Events of this magnitude don't happen every year and if you get to attend one – that's a life-time experience.
P.P.S: No, unfortunately I won't be able to make it this year.