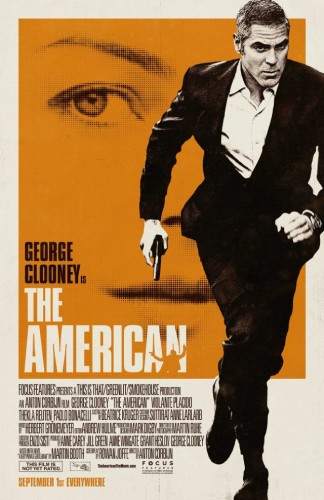 I watched "The American" yesterday.  It's a rather slow developing drama of an aging assassin, who starts to get lonely, questions his life choices, and wants to quit his trade.  And as in so many other stories, that's not so easy to do.  And as with so many other stories, women are usually involved.
It's a nice story.  Not a bad movie.  Some solid acting.  And lots and lots of silence, which makes sense.  It is somewhat slow, but I enjoyed it quite a bit.  Yet, it is that kind of movie which is difficult to recommend.  Because people usually expect so many different things from an assassin drama.  And I'm not sure this will satisfy many.  It did satisfy me though.
Two things in particular that I liked were the use of Italian language and scenery.  Multi-lingual films are a challenge.  If there are two many languages or too much of two languages, subtitles are needed, and they usually annoy the audience.  Shooting a movie in English, when clearly other languages are involved often seems naive and childish.  So the choices are hard and making a movie with two or more languages involved is not that easy.  This film succeeded though.  It managed to bring the feeling of Italy, the atmosphere, and the language without using too much of it.  Subtitles are helpful, but not required – most of what is said in Italian are short phrases, the smalltalk.   Yet, combined with the scenery of small Italian towns that brings a very realistic feeling.  The place is unmistakable.
Overall, a 4 out of 5.